Tim Smalley Project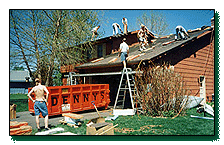 The Advanced Home Improvements team is committed to giving back to the community. In fact, each year since 1996, we've participated in our cause: The Tim Smalley Project. That year, we donated our labor to a neighborhood in need. While on site, neighbors informed us of Tim Smalley, a resident in their community whom had been diagnosed with Lou Gehrig's disease. Although Tim himself hadn't asked for our help, we, the neighbors, and local material suppliers rallied around Tim, volunteering their time to replace his roof on a Saturday afternoon. All the while, Tim cheerfully cooked burgers for the crew.
In Tim Smalley's memory, we now donate a construction project each year to a family that could especially benefit from our support. Click the image below to view a story from Tim Smalley's son himself about the project.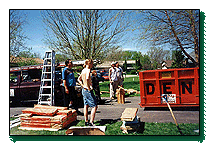 Watch our video by clicking on the image below.